Our Farm Market has grown over the years from the original 40′ x 40′ fruit stand in 1969, to a complex of over 18,000 sq. ft. This complex consists of Farm Fresh Fruit and Vegetables, Specialty Foods from throughout the Northeast, a Bakery featuring our famous Apple Cider Donuts, pies, breads, and pastries, a Gift Shop filled with candles, foods stuffs and  gifts , house wares and many more items for your shopping enjoyment.
Altamont Orchards Fresh Pressed Cider, which is pasteurized, with NO Preservatives added.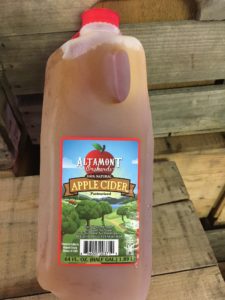 We also have a Greenhouse area featuring bedding and potted plants, hanging baskets, vegetable plants, soils, mulch and everything for your gardening needs during the Spring months. During the month of June, come to the Market to purchase freshly picked strawberries or come pick your own. Finally in late November and December we are a great place to find the family Christmas tree and Wreaths!